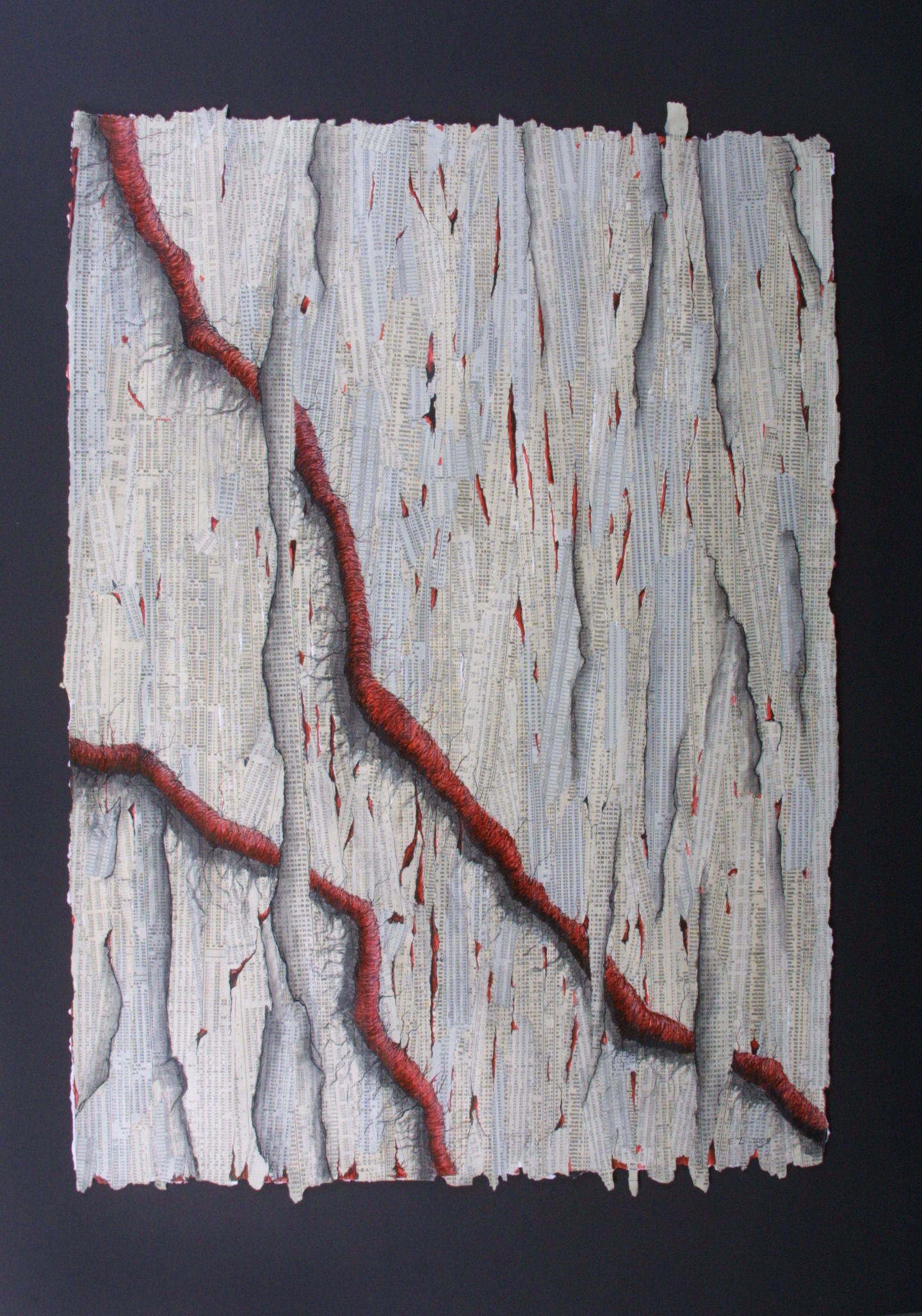 Ambient Series III

Mixed Media - Newspaper collage, ink, charcoal on paper.
Edgar Z.

–

ambient series
The ambient series is a continuous exploration and experimentation with opposite elements (contrasting and complementary). The pieces combine elements which pre-dominate realistic, abstract and  non-objective images in art. Traditionally, by definition, these pieces could be regarded as purely non-objective images, relying on the elements of art (line, texture, color, space, shape, and value) to convey a visual image. I choose to think  of these pieces as landscape and figurative works. These pieces  are not limited to one medium and explore various themes by inviting the viewer to bring their personal experience, as well as their personal connection to a collective conscience.
The main objects or figures, I often refer to as "cords", were originally inspired by the birth of my nephew. As a  birth coach for my sister, I was immediately fascinated by the organic shapes found in the natal cord and sac. I began  sketches in notebooks and later took on their own form, shapes and textures moving away from the original inspiration  of the natal sac and photographs in medical journals.
I found, as I continued to draw these forms, a noticed likeness to  other shapes and forms in plant life and geological forms (vines and stactalite) and moved away from the "figurative"  toward landscape elements such as foreground, middle and background space found in the shallow space I began to render.
A longtime  fan of the ambient music movement that began to flourish in the 1970's, I found more inspiration listening to the ambient music of Brian Eno, David Bowie and more recently,  Radiohead.
My  intent was to illustrate the ambient music while illustrating  additional concepts simultaneously, as ambient music was intended as the musical illustration or equivalent of visual landscapes. I often view my work as a literal interpretation of what actually  transpires in our brain, the landscape that exists while neurons and synapse connect.
The cords representing "connection" caused me  to find connections between opposite ideas or ideals. Many of the ideas explored in this particular series include spiritual (Trinity- Godhead) and economic metaphors (numbers 1 and 2 , Ballad of Dorothy Parker (Deconstructionist Remixes) which are described by what I term "character fields" which include numbers, letters, music notes and washes).
While the graphite and the ink wash images utilize a traditional  technique of "washes", the other images combine   collage elements as a "wash." With the aspect  of abstraction, I chose to create the illusion that the foreground  images were "real" with shading creating the illusion  of mass, and the middle ground and background utilized "real" images (numbers and words) abstracted in order to create an unrecognizable or "unrealistic" background.
The  first images were ink drawings; however, I chose graphite when I started working larger to concentrate on value.  I began melting the powdered graphite with alcohol to first paint the images, later erasing and re-drawing where  I felt, as it related to the composition.
The graphite drawings were "darker" images, so I turned to ink and kept the colors within the purest  saturation possible. I later challenged myself to find  other ways to create washes and implemented the use  of collage to push these visual metaphors for what I termed "thought landscapes."

The  ambient series represents a small part of the whole  series. One  exploration of the series implements a new process in  which I have silk-screened the collages onto canvas and later paint the collages to represent dimension and space as well as depth. These have now come to  represent "portraiture". The cords are allowed  to explore the collages more than once, on four different  collages in additions of five per collage. I have enjoyed  pushing the process into "complete painting"  with acrylic paints. 
I have also for the first time incorporated my own writing into the collages as well as explored ideas with the Old Testament Book of Job. Simultaneously, I have also completed a small series of graphite paintings exploring the idea of landscape. One of these "graphite paintings", "Ambient Landscape #4" was included as art for Michael G. Ronstadt's "Shaken Earth" CD. 
I   am currently planning other explorations into sculpture  and photography. While I feel confident that each edition or group of "studies" represents a finished work, I am also working towards a larger installation pieces to create a landscape for which the viewer to walk through and experience.